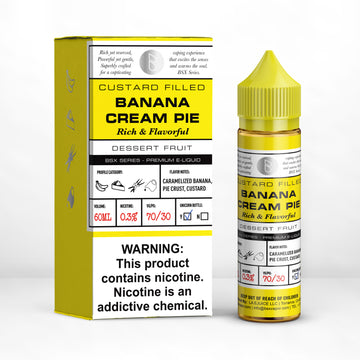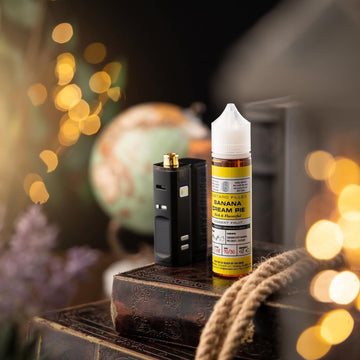 Banana Cream Pie - BSX Series
Banana Cream Pie is a custard filled flavor packed with rich and flavorful caramelized banana, pie crust, and vanilla custard. Just as good as the one your nana made and is sure to leave your taste buds satisfied.
Redefining Premium
From our certified ISO and GMP certified facility to our exclusive, custom molded bottles, our relentless pursuit of perfection ensures an exhilarating experience of complex, layered flavor.

Responsible Manufacturing
• Manufactured in ISO & GMP Certified Facility
• 24 Hour Surveillance of Mixing & MFG Areas
• Full Traceability, Transparency & Documentation
• Child-Proof Caps & Tamper Evident Seals

High quality materials & Ingredients
• REACH Compliant PG/VG & Nicotine
• Nicotine Consistency testing
• Flavor Consistency testing

Passion for Excellence
• Incredible Customer Service
• Award Winning Flavors
•Innovative Product Development