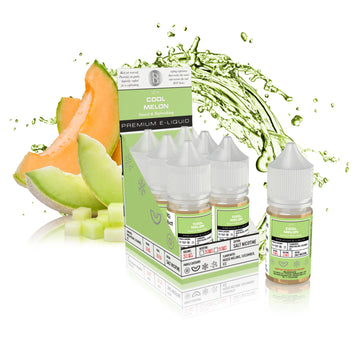 Cool Melon - BSX Nic Salts
This ripe flavor combines crisp melon with the sweetness of cantaloupe and a refreshing hint of cucumber. A light menthol finish compliments this flavor perfectly, and will refresh your senses throughout the experience.
Reviews
Customer Reviews
One of my Favorites
Fruit Menthols are a hard mix for most companies. Either too much fruit or too much menthol. Glas did a great job with perfectly blending the two
Amazing fruity menthol flavor
I love fruit with that fresh menthol kick. This is very melony with a cool hit of menthol. Super refreshing. Never get tired of it
Crisp and refreshing
Fruity flavor that isn't overpowering with just the right hint of menthol to make it crisp and refreshing
Redefining Premium
From our certified ISO and GMP certified facility to our exclusive, custom molded bottles, our relentless pursuit of perfection ensures an exhilarating experience of complex, layered flavor.

Responsible Manufacturing
• Manufactured in ISO & GMP Certified Facility
• 24 Hour Surveillance of Mixing & MFG Areas
• Full Traceability, Transparency & Documentation
• Child-Proof Caps & Tamper Evident Seals

High quality materials & Ingredients
• REACH Compliant PG/VG & Nicotine
• Nicotine Consistency testing
• Flavor Consistency testing

Passion for Excellence
• Incredible Customer Service
• Award Winning Flavors
•Innovative Product Development